If You're Like Most Successful Female Financial Advisors, You Want Your Business to Reach New Heights — Effortlessly!
However, chances are that your income has flatlined or reached a plateau.  You may be wondering how you can continue to scale your financial advisory firm and still live the life of your dreams.  How many of the following scenarios do you aspire to handle ASAP?
Confidently leading your team

Increasing your focus, efficiency, and productivity

Leveraging yourself and scaling your firm in order to bust through your current capacity
Juggling work and family roles more easily

Stressing less and taking more time off

Banishing business and life burnout to lead an exceptional life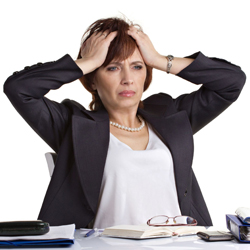 Financial Advisors: Running A Business is Often Challenging!
You've been blessed with a brilliant mind for financial services and a generous heart for helping as many people as you can.   However, as you build your book, you find yourself working later hours, even weekends, and that's not how you want to live.  Your vision is to advise more and live better.  Growing a business shouldn't leave you frustrated or overwhelmed.  But it does.
| Are you here… | …and you want to be here? |
| --- | --- |
| Stuck in stop-start mode…? | Scaling your business and taking more time off |
| Overwhelmed by what needs to be changed…? | Fearlessly using change to grow and increase profits |
| Wondering how to find your next clients…? | Providing services to generations of families who refer others to you |
| Hate marketing/sales…? | Attracting clients with whom you share deep connections and partnerships |
| Know what you need but not how to get it…? | Applying systems and other tools to manage and market your business |
Coaching Top Financial Advisors to Strategically Build a $1M+ Firm
Listen to my short (2:04 minute) talk about how financial advisors can grow or scale their business.  I have a long-term love and deep understanding of the industry, from the back office to retail trading and places in between.
My consulting, coaching, and courses guide you in transforming your advisory practice into a more successful and enjoyable business.  Since 1998, I've worked globally with individuals, teams, and associations, both virtually and in person.
Working Smarter Isn't Difficult With Insightful Tips!
Download the report that shows you 7 ways to be more productive and get your team on board, too.  Plus receive insightful, actionable business, marketing, and life strategies twice a month to help you profit more and live better. Be the first to hear about instructional trainings, free resources, and so much more. Cancel at any time using the remove link at the end of each edition.

Choose Financial Advisor Consultative Coaching Programs
and Seminars that Fit Your Needs

Financial Advisors
Consultative Coaching
Are you ready to transform your vision into a reality? Consultative coaching helps you do that and more. Choose the program that's best for you, or ask me to customize a program just for you or your team. Consider 1:1 or group, or do it with guidance programs, too. Get my dual-purpose brand of life and business consultative coaching!
Financial Advisors
Training & Seminars
Which mindset, management, or marketing seminar would be best for your people? My business and life coaching seminars encourage financial advisors, their teams, B/D, institutions, and organization members to master proven business or life processes – and to act now rather than later! Available internationally in English.
Kind Words From My Clients
New Ways To Reinvent Myself

I had the privilege to work with Maria for a Laser Coaching session on my executive career path. She is OUTSTANDING, down to earth, has real life ideas, and is extremely ahead of our times — not to mention has lots of professional knowledge. Maria she gives back to those in need of constructive ideas, new ways to reinvent themselves for a new direction of their careers. I highly recommend you speak with Maria for your personal or business growth.
A Balanced Approach

Maria is a top-notch business consultant and coach. I hired her for an hour consultation which turned out to be a great opportunity for me to see my business from a very experienced mentor's perspective. A "woman of her word" she followed through, by email, with informative links and resources to every single topic that we discussed. Maria shares a well-balanced approach, taking into consideration that "life happens while you're running a business." She is intelligent and kind with a straightforward approach on how to manage day-to-day business more efficiently and in turn becoming more profitable. I would highly recommend Maria to Elevate Everyone's Business.