If You're Like Most Successful Female Financial Advisors, You Want to:
Juggle work and family responsibilities more easily

Spend less time on tasks and more time with clients

Leverage yourself and scale your firm

Invest in relevant technology

Lead your firm confidently
Clearly state the value you provide to clients

Get more focused, efficient, and productive

Bust through your firm's current capacity

Stress less and take more time off

Strategically grow your firm!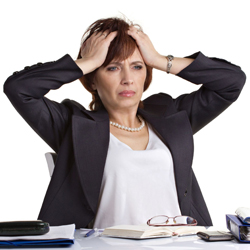 What Type of Financial Advisor Hires a Business Coach?
You've been blessed with a brilliant mind for financial services and a generous heart for helping as many people as you can.   However, as you build your book, you find yourself working later hours, even weekends, and that's not how you want to live.  Your vision is to advise more and live better.  Growing a business shouldn't leave you frustrated or overwhelmed.  But it is.
| Are you here… | …and you want to be here? |
| --- | --- |
| Stuck in stop-start mode…? | Moving toward your goals each day with confidence |
| Overwhelmed by what needs to be changed…? | Fearlessly using change to grow and increase profits |
| On the verge of burnout…? | Having plenty of time for life's responsibilities and joys |
| Wondering where your next clients will come from…? | Securely providing services to generations of families who refer others to you |
| Hate marketing/sales…? | Enjoying deep connections and partnerships with your clients |
| Feeling alone…? | Having a sounding board |
| Know what you need but not how to get it…? | Applying systems and other tools to manage and market your business |
Coaching Top Financial Advisors to Love Their Business Again
Listen to my short (2:04 minute) talk about how financial advisors can grow or scale their business.  I have a long-term love and deep understanding of the industry, from the back office to retail trading and places in between.
My consulting, coaching, and courses guide you in transforming your advisory practice into a more successful and enjoyable business.  Since 1998, I've worked globally with individuals, teams, and associations, both virtually and in person.
Learn How Savvy Advisors Use SYSTEMS to Increase Productivity,
Profits & Peace of Mind by Using Repeatable, Scalable Processes!
Plus receive insightful, actionable business, marketing, and life strategies twice a month to help you profit more and live better. Be the first to hear about instructional trainings, free resources, and so much more. Cancel at any time using the remove link at the bottom of each edition.

Choose Financial Advisor Consultative Coaching Programs
and Seminars that Fit Your Needs

Are you ready to transform your vision into a reality? Consultative coaching helps you do that and more. Choose the program that's best for you, or ask me to customize a program just for you or your team. Consider 1:1 or group, or do it with guidance programs, too. Get my dual-purpose brand of life and business consultative coaching!
Which mindset, management, or marketing seminar would be best for your people? My business and life coaching seminars encourage financial advisors, their teams, B/D, institutions, and organization members to master proven business or life processes – and to act now rather than later! Available internationally in English.
Kind Words from My Clients
After working with Maria for just three months, I tripled my monthly income. Usually, after tax season, I have to look for work.  This year, clients were waiting for me to be available.
There is no doubt in my mind that Maria is a natural at minding others' business on Business. Her honest, matter-of-fact approach is authentic!
You made me feel better about where I am in my marketing and gave me ideas of what I want to pursue, and in what order.
…The impact of coaching, for me, was like being shown the road to the freeway, without yet being out of the suburbs.
….-Aha moment! I realized that the reason my business hasn't excelled, is because I wasn't ready. I had no vision, no business plan, no marketing tools and no direction. I was just taking anything that came my way. And that's not how you run a business. Maria, you inspire me and my business to be the best we can be. You are a source of inspiration.
You provide lots, but mainly someone I can confide in about business or personal issues that can give an objective opinion about any problems I have. You also provide direction and possible solutions that help make life funnier and me a happier person.
Many of the questions on your exhaustive list of ideal client questions weren't part of my thought process and answering them opened my eyes to new possibilities. I came away with a specific, factual description that helps me recognize my ideal clients after 30 seconds of a conversation, so I can now easily avoid spending time with people who AREN'T my ideal and move on to those who are!
She is OUTSTANDING, down to earth, has real life ideas, and is extremely ahead of our times — not to mention has lots of professional knowledge. Maria gives back to those in need of constructive ideas, new ways to re-invent themselves for a new direction of their careers. I highly recommend you speak with Maria for your personal or business growth.
Maria Marsala: Life and Business Coaching for
Women Financial Advisors
Female advisors account for only 23% of the financial industry advisors.  As a woman executive who survived the blatant sexism on Wall Street in the street in the 70s and 80s, things are better now, but much improvement is still needed.
Back then, I helped secretaries become traders and told them how to negotiate the pay they deserved. Now, I want to help women advisors absolutely thrive and grow their financial firms, again, on their own terms.
I'm not going to tell you that the secret is "balance" because we both know that you achieved your level of success by being single-minded and un-balanced at times.
It's more like very purposeful planning and prioritizing, so that you can have "it all"—just maybe not all at once or in perfectly equal measure. Throw "balance" out of the window and aspire to what I call "life full-fillment" instead, giving you the ability to:
Grow your empire (and profits) to a place that makes you happy
Take care of your family
Breathe again and enjoy your time off (and more of it)