Life and Business Coaching for Female Financial Advisors Ready to 2x Their Revenue
I provide coaching for ethical, entrepreneurial and growth-minded female financial advisors dedicated to helping other professionals (CEOs, C-suite executives, etc.) grow and protect their assets around their life plans.  Many of my clients have already hit several of their goals and want to grow their firm's value in order to sell it or leave it as a legacy to their family.  In addition, all are independent thinkers and a bit rebellious, intent on growing an enterprise on their own terms and living fun, full-filled lives.
The bottom line is that you are more than ready to change the way you're running your business (and possibly your life) to level-up your business and make it run like a Swiss watch (instead of IT running YOU).
A Successful Coaching Relationship for
Female Financial Advisors and Executives
You may not have peers to confide in about your business challenges. As a result, you could really use someone who is objective and on your side to bulletproof your ideas and give feedback—a blend of professional and personal support.
Over the past 20+ years, I've noticed that the clients I'm able to help the most share many characteristics:
You own a financial firm such as: an RIA, wealth management, financial planning, investment management, insurance, or accounting firm.

You're between the ages of 35 and 55.

You are working more than 40 hours a week and haven't taken time off in . . . well, you don't remember how long it's been.

You've tried to grow your business–on your own–after hitting a "growth wall" or flatlining and realize that what you're doing isn't working.

You spend too much time putting out fires instead of providing top-notch service to your clients and prospects.

You are willing to move out of your comfort zone in order to grow your practice.

You want to see result$ within the next year or two and will do what it takes to reach your goals.

Your word is your bond. When you say you're going to do something, it's done.

You prefer the truth to pussy-footing around.

You're comfortable communicating in English and know that while financial regulations differ internationally, the concepts I teach about business growth are global.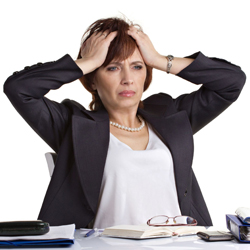 "MY CLIENTS HAVE AN ADVISOR-CEO MINDSET. THEY ARE COMMITTED TO PURPOSEFULLY GROWING THEIR FIRMS IN AN EFFICIENT AND SUSTAINABLE WAY. THE RESULTS THEY ACHIEVE ARE HIGHER PROFITS, MORE PRODUCTIVITY, AND THE FREEDOM THEY DESIRE."
-- Maria Marsala, Your Coach
Business Management, Performance, and
Marketing Coaching for Female Financial Advisors
If you have been unable to set priorities, react to whatever comes your way (because everything seems equally important), and engage in "to-doing" with no direction, you might need a coach! You're a financial advisor, not a firefighter! What you need now are solutions to help you run your business with ease.
If you have these questions, I have solutions.  How many of these questions have you asked yourself lately?
What should I be working on next?

How can I double my profit?

How can I stop working so many hours AND be more productive?

What's the best way for me to market online and offline?

How do I choose the best niche for my business and not lose clients?

How do I become a better leader and help my team be more cohesive?

How do I ensure that the value of my business is part of my nest egg?

Where do I begin to develop and integrate virtual services?
Do you need answers to 5 or more questions on the list?
Life Coaching Especially for Female Financial Advisors
After reading Secrets of Six-Figure Women by Barbara Stanny (highly recommended), I realized that no matter HOW SUCCESSFUL a woman has been, she still retains ways of thinking, habits, or behaviors that no longer serve her. Do you hold on to some of these, too?
For instance, are any of these internal obstacles blocking your path to more success?
People-pleasing / constantly apologizing

Money and abundance blocks

"I'm not good enough" thinking / perfectionism

Fears of failure / success / rejection / the unknown

Comparing yourself to others

Doubts that you can have both a booming business and a happy home life

Resentments and what you're tolerating
Next Step…
Recognize yourself? If yes, let's start with some life coaching to eliminate any mindset monkey wrenches sabotaging your plans!  We'll combine that with business coaching in marketing and management that will have you serving more clients while working fewer hours.
Elevating Your Business: Boosting Profits, Productivity, and Playtime — Faster!